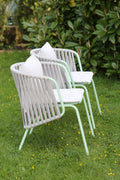 As the flagship line of Garda's outdoor furniture, Ataman collection is composed of few variations of the chair, armchair, two sofas, chaise longue, one straight and one round dining table and a set of coffee tables. The main characteristic implies mixture of different materials such as outdoor rope, fabric and sponge with the base metal structure in order of creating small undercollections each particular in its own way.
Chair
Beeing dressed in ropes specially made for outdoor use, chair in the same time reflects the warmth and comfort as its main highlights. In addition to the base configuration is a set of cushions both for seat and back.
PRETHODNO PREGLEDANI PROIZVODI
You can stop autoplay, increase/decrease aniamtion speed and number of grid to show and products from store admin.